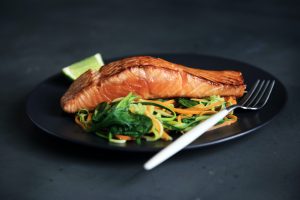 It's not that gimmick diets don't work. There couldn't not be science behind them, just as there is in anything intentional in food or nature, anything we put into our bodies. The issue instead, why they get labeled as "gimmick," is the allopathic, one-size-fits-all paradigm from which they are often recommended.
I'm confident any diet of complete abstinence, whether gluten and dairy free, veganism, paleo, keto, or intermittent fasting, can benefit certain people for certain amounts of time; but just as is the case with herbal or western medicine, the only way for them to be truly effective, intelligently prescribed, is by knowing not only their benefits, but their flaws.
For example, when we nourish blood with herbal medicine, we should beware of creating internal dampness and modify accordingly. When we drain dampness we should beware of drying healthy body fluids and modify accordingly. Western medicine does not have this luxury. They cannot modify pharmaceuticals beyond dosage, and even if they could, subjective systemic climate is not a part of their pathology diagnoses.
May people benefit from the vegan diet. By eliminating meat for certain periods of time one will surely clear damp heat from the stomach and intestines, as meat is a heavy substance that is more difficult to break down than most carbs or vegetables. On the other hand, over time the vegan diet will likely not provide enough "qi and blood," as there is no greater source of these than animal protein. If veganism was an herbal prescription we might liken it to a bitter cold medicinal, such as coptis root (which is why coptis root is almost never given to vegans).
At the opposite pole is the ketogenic diet, where one is not permitted any carbs whatsoever, and instead eats a great deal of animal protein. Originally designed for epilepsy patients in the 1920s—now used more for weight loss in the 2020's—it is supposedly great for reducing neurological inflammation, which is logical as this is especially spiked by simple sugars. By eliminating sugar, a great deal of dampness will be drained from the stomach and pancreas, however over time the excess animal protein will create systemic heat, which eventually creates inflammation, synonymous with more dampness. This might explain why many people on the keto diet supplement with magnesium to avoid constipation. Magnesium is a "cold mineral" that if taken over time will have such side effects on the stomach. My understanding is to do the ketogenic diet intelligently, one obviously cannot avoid animal protein, but should be most forward with fish, eggs, and nut butters to avoid creating excess heat.
More people these days are practicing intermittent fasting than ever before, and most are experiencing some superficial benefit, albeit with underlying side effects. The Chinese said the stomach qi is strongest between 7-9am. Western medicine says this is the time we are most sensitive to the insulin hormone, whose job it is to break down glucose. These mean the same thing, which is that science agrees with the maxim of other cultures and generations past: Breakfast is the most important meal of the day. By skipping breakfast we might drain dampness from the body, but we do so at the expense of the healthy stomach fluids. People might lose weight or feel great in the short-term, but over time they experience other digestive issues and can't figure out why, because they are "doing everything right." A more intelligent way to do this would be to skip dinner, however this does not align with our lifestyles and cultural norms. Instead, it is most advisable when practical, to eat all of our food between 7-7, the latter of which being when insulin resistance dramatically spikes.
Finally, I cannot see any drawback of going gluten, sugar, and/or dairy free. It does wonders for autoimmune, thyroid, and neurological patients, otherwise to prevent such conditions. Gluten and dairy are not toxic the way that sugar is, but they are damp-causing foods with little to no redemptive qualities. Dairy would be far down the list of healthy sources of calcium or protein, and almost everyone with stomach, lung, or skin issues greatly benefits from 3-6 months of abstinence. Instead, I am always a proponent of Eastern nutrition, which recommends all cooked foods, mostly vegetables, with small but daily portions of carbs and animal protein.
I hope this was insightful or helpful, and as always all questions and comments are welcome!