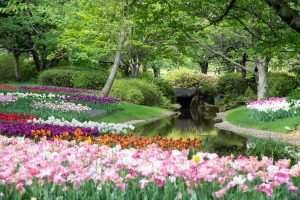 Despite the northeast weather forecasts consistently looking more like a frightening EKG than a directly corresponding line with the seasons, Spring is here and we can expect to feel the climactic difference on at least most days relatively soon.
The Spring season corresponds with the wood element, which corresponds with the emotion of anger or frustration, which corresponds with our liver and gallbladder meridians, which might incite symptoms such as temporal headaches, rib-side pain or cramping, dryness in the chest or throat (I lost my voice this past week for the first time in probably a decade!), cold feet in spite of a warm body, the shingles virus, lack of appetite for breakfast, or exaggerated PMS symptoms for women.
The seasonal increase in our liver and gallbladder qi, respectively, makes us more prone to anger and irritability, which can make us more prone to any of these symptoms, which of course creates a vicious cycle—especially for those of us considered "wood element constitutions," such as myself. "Wood people" tend to be active and potentially temperamental, with a wiry, sinewy build like, well… wood.
Interestingly one of the most common pulse qualities Chinese Medicine recognizes is the "wiry pulse," because it feels like a taut wife beneath the pads of the finger. When we feel this we often assume that the liver or gallbladder channels are implicated in the etiology of disease.
The best ways to mitigate these "side effects of Spring" are through a healthy amount of exercise—enough to circulate the liver qi without over-sweating and drying out the stomach—and mostly warm foods that are easy to digest. In Classical Medicine liver and gallbladder pathologies are a result of the stomach being completely dried out of healthy fluids, then sending pathogenic heat/inflammation upwards (see aforementioned loss of voice). The one exception to the warm rule these next few months would be in the form of sauerkraut, vinegars, and pickled foods, which along with mildly spicy foods are said to course the liver qi.
As for my own apparent stress variable, (my wife and) I will be moving next week to live in a suburb for the first time in 27 years! Excitement, along with fear and anxiety are likely more prominent within me than anger or frustration, but as a "wood-type person" navigating this seasonal wood transition, it stands to reason that for me such symptoms would arise.
We bought a home in the "coolest," most culturally diverse suburb still with a good school system that we could find, in South Orange, NJ. One of my favorite mentors' tai chi school is a 10-minute drive away and we have a 5-minute walk from our house to the NJ Transit stop, which is 40 minutes direct to Penn Station, which is then a 15-minute walk to my office. Not bad! Also, the previous owner happened to be a famous Buddhist monk who founded the Tibet Center on the lower east side. Many cool check-offs on this resume, however I've always been a "New York or Nowhere" person, so the great unknown, coupled with all the stressors of renovations and moving with a toddler surely went straight to my throat. Wish us luck!