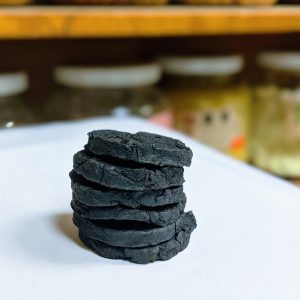 In my last weekend roundtable of case discussions with my group in Beijing, my teacher reminded us of the importance of sometimes inquiring how patients feel while digesting red meat. Whether they feel good, bloated, constipated, or otherwise, can inform us of the strength of the microbiome.
Red meat, like all foods in Chinese Medicine, is medicinal, but like any medicinal it is not perfect. Although there is no better food for building and nourishing the blood and body fluids, plus warming the overall gut, red meat is obviously a heavy material, more difficult to digest than most foods, and therefore should be dosed and prescribed mindfully.
This reminded me precisely of how we think of "shu di huang," a Chinese herbal medicinal that is better known in the west as foxglove root. Foxglove root is one of the most important herbs in our pharmacopeia for building and nourishing blood—especially when the lack of blood has led to internal heat in the body.
The problem is if you look at raw foxglove root it looks like a stale old chocolate brownie. It is dense, heavy, and sticky, invaluable to certain patient patterns, but also difficult to digest; we are continuously reminded to not prescribe unless and until patients' microbiome functionality is fully, or close to fully restored. It's a rather simple connection: If someone feels bloated or distended after eating red meat they cannot yet handle foxglove root. If we make the mistake of prescribing it, they'll likely come back complaining of worse digestive issues and no improvement of symptoms. We always must first rectify the gut before rebuilding blood. This is Chinese herbal medicine in a nutshell—or a stale brownie if you will.
We are now entering the time of year where red meat is most advisable, utilizing its sweet warming properties to balance the bitter cold of winter, as well as its fatty lubrication to counteract the dryness most evidenced on our skin or chapped lips.
However, it is important to dose properly—also whenever possible to intelligently design the remainder of each "formula," which is to say plate of food. Since something like salmon is relatively easy to digest it can be consumed alongside more carbs and/or potatoes. On the other hand, red meat is better harmonized by cooked greens and light vegetables to aid in its downward movement. Beer and white bread will obviously have the opposite effect.
By all means take the following Eastern recommendations with a grain of salt (or pinch of sea salt atop your filet mignon this holiday season):
Ideally, red meat should make up the smallest portion of food on your plate. When it doesn't it's important the following day to drink plenty of mint, barley, and/or ginger tea to help with its processing and digestion.
Red meat might be consumed about once a week in summer months and three times a week in winter months.
Red meat should be consumed more by people over the age of 60, women on their menses, and people with relatively "cold constitutions," that tend more to anemia, hypotension, hypothyroid, and almost "hypo" anything."
People with warmer body types with tendencies to "hyper" conditions, or dealing with serious hemorrhoids or intestinal inflammation should mostly avoid red meat until said symptoms are resolved.
Red meat can be consumed with reckless abandon by any woman less than six months post-partum and almost any woman trying to get pregnant. If it bothers your stomach I would advise starting with very tiny portions and gradually increasing the dose, as unlike foxglove root, red meat should strengthen the microbiome enough to tolerate more of it.
If you are a meat-eater and have never been to Quality Meats in Manhattan I'd highly recommend! My father always preferred The Palm II on 2nd Avenue, but I believe he was guilty of nostalgic attachment, as it was located a few blocks from his office of several decades.